Molecular Pediatric Oncology
Andreas Kulozik and Jan Korbel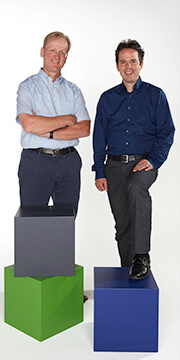 Andreas Kulozik and Jan Korbel
MMPU Faculty collaborator:

Martina Muckenthaler


Project Summary
T-cell acute lymphoblastic leukemia (T-ALL) is an aggressive malignancy of thymocytes that accounts for about 15% of pediatric ALL. A variety of genetic events affecting cellular processes, such as the cell cycle, differentiation and survival, have been identified in T-ALL and result in developmental arrest, uncontrolled cell growth and clonal expansion of T-cells.
In the past, we have discovered that the activation of defined cellular pathways such as NOTCH, PI3K-AKT, IL7R/STAT5B and the inactivation of the TGFß and apoptotic pathways contribute to the leukemogenesis of T-ALL and that some of these cellular pathologies are of prognostic value.
At the time of the first diagnosis most patients with T-ALL can be treated successfully with long term survival rates of approx. 80% . By contrast, in patients with T-ALL relapses the disease is mostly treatment resistant with only a minority of patients surviving. This particularly poor prognosis of relapsed T-ALL also contrasts to relapsed precursor B-ALLs, which, even at the time of relapse, can be eliminated in >50% of patients.
Goals
It is of particular biological interest and medical relevance to unravel the mechanisms that govern the transition from treatment sensitivity to treatment resistance in this entity and to thus lay the foundation for the development of new treatment strategies, both to prohibit the development of treatment resistance and to treat relapses.
Important Publications
Pediatric T-lymphoblastic leukemia evolves into relapse by clonal selection, acquisition of mutations and promoter hypomethylation
Joachim B. Kunz, Tobias Rausch, Obul R. Bandapalli, Juliane Eilers, Paulina Pechanska, Stephanie Schuessele, Yassen Assenov, Adrian M. Stütz , Renate Kirschner-Schwabe, Jana Hof, Cornelia Eckert, Arend von Stackelberg, Martin Schrappe, Martin Stanulla, Rolf Koehler, Smadar Avigad, Sarah Elitzur, Rupert Handgretinger, Vladimir Benes, Joachim Weischenfeldt, Jan O. Korbel, Martina U. Muckenthaler and Andreas E. Kulozik
Haematologica 2015, in press
The activating STAT5B N642H mutation is a common abnormality in pediatric T-cell acute lymphoblastic leukemia and confers a higher risk of relapse.
Bandapalli OR, Schuessele S, Kunz JB, Rausch T, Stütz AM, Tal N, Geron I, Gershman N, Izraeli S, Eilers J, Vaezipour N, Kirschner-Schwabe R, Hof J, von Stackelberg A, Schrappe M, Stanulla M, Zimmermann M, Koehler R, Avigad S, Handgretinger R, Frismantas V, Bourquin JP, Bornhauser B, Korbel JO, Muckenthaler MU, Kulozik AE.
Haematologica. 2014 Oct;99(10):e188-92. doi: 10.3324/haematol.2014.104992. Epub 2014 Jun 27. PMID:24972766
Enhancer hijacking activates GFI1 family oncogenes in medulloblastoma.
Northcott PA, Lee C, Zichner T, Stütz AM, Erkek S, Kawauchi D, Shih DJ, Hovestadt V, Zapatka M, Sturm D, Jones DT, Kool M, Remke M, Cavalli FM, Zuyderduyn S, Bader GD, VandenBerg S, Esparza LA, Ryzhova M, Wang W, Wittmann A, Stark S, Sieber L, Seker-Cin H, Linke L, Kratochwil F, Jäger N, Buchhalter I, Imbusch CD, Zipprich G, Raeder B, Schmidt S, Diessl N, Wolf S, Wiemann S, Brors B, Lawerenz C, Eils J, Warnatz HJ, Risch T, Yaspo ML, Weber UD, Bartholomae CC, von Kalle C, Turányi E, Hauser P, Sanden E, Darabi A, Siesjö P, Sterba J, Zitterbart K, Sumerauer D, van Sluis P, Versteeg R, Volckmann R, Koster J, Schuhmann MU, Ebinger M, Grimes HL, Robinson GW, Gajjar A, Mynarek M, von Hoff K, Rutkowski S, Pietsch T, Scheurlen W, Felsberg J, Reifenberger G, Kulozik AE, von Deimling A, Witt O, Eils R, Gilbertson RJ, Korshunov A, Taylor MD, Lichter P, Korbel JO, Wechsler-Reya RJ, Pfister SM.
Nature. 2014 Jul 24;511(7510):428-34. doi: 10.1038/nature13379. Epub 2014 Jun 22. PMID:25043047
Genome sequencing of SHH medulloblastoma predicts genotype-related response to smoothened inhibition.
Kool M, Jones DT, Jäger N, Northcott PA, Pugh TJ, Hovestadt V, Piro RM, Esparza LA, Markant SL, Remke M, Milde T, Bourdeaut F, Ryzhova M, Sturm D, Pfaff E, Stark S, Hutter S, Seker-Cin H, Johann P, Bender S, Schmidt C, Rausch T, Shih D, Reimand J, Sieber L, Wittmann A, Linke L, Witt H, Weber UD, Zapatka M, König R, Beroukhim R, Bergthold G, van Sluis P, Volckmann R, Koster J, Versteeg R, Schmidt S, Wolf S, Lawerenz C, Bartholomae CC, von Kalle C, Unterberg A, Herold-Mende C, Hofer S, Kulozik AE, von Deimling A, Scheurlen W, Felsberg J, Reifenberger G, Hasselblatt M, Crawford JR, Grant GA, Jabado N, Perry A, Cowdrey C, Croul S, Zadeh G, Korbel JO, Doz F, Delattre O, Bader GD, McCabe MG, Collins VP, Kieran MW, Cho YJ, Pomeroy SL, Witt O, Brors B, Taylor MD, Schüller U, Korshunov A, Eils R, Wechsler-Reya RJ, Lichter P, Pfister SM; ICGC PedBrain Tumor Project.
Cancer Cell. 2014 Mar 17;25(3):393-405. doi:10.1016/j.ccr.2014.02.004.PMID:24651015
NOTCH1 activation clinically antagonizes the unfavorable effect of PTEN inactivation in BFM-treated children with precursor T-cell acute lymphoblastic leukemia.
Bandapalli OR, Zimmermann M, Kox C, Stanulla M, Schrappe M, Ludwig WD, Koehler R, Muckenthaler MU, Kulozik AE.
Haematologica. 2013 Jun;98(6):928-36. doi: 10.3324/haematol.2012.073585. Epub 2013 Jan 24. PMID:23349303


ALL can be separated from NOTCH pathway activation by FBXW7 loss of function.
Kox, C, M. Zimmermann, M. Stanulla, M. S. Leible, M. Schrappe, W.-D. Ludwig, M. Muckenthaler, A.E. Kulozik.
Leukemia. 2010 Dec;24(12):2005-13. Epub 2010 Oct 14
High-resolution genomic profiling of childhood T-ALL reveals frequent copy-number alterations affecting the TGF-beta and PI3K-AKT pathways and deletions at 6q15-16.1 as a genomic marker for unfavorable early treatment response.
Remke M, Pfister S, Kox C, Toedt G, Becker N, Benner A, Werft W, Breit S, Liu S, Engel F, Wittmann A, Zimmermann M, Stanulla M, Schrappe M, Ludwig WD, Bartram CR, Radlwimmer B, Muckenthaler MU, Lichter P, Kulozik AE.
Blood. 2009 Jul 30;114(5):1053-62. doi: 10.1182/blood-2008-10-186536. Epub 2009 Apr 30. PMID:19406988
Activating NOTCH1 mutations predict favorable early treatment response and long-term outcome in childhood precursor T-cell lymphoblastic leukemia.
Breit S, Stanulla M, Flohr T, Schrappe M, Ludwig WD, Tolle G, Happich M, Muckenthaler MU, Kulozik AE.
Blood. 2006 Aug 15;108(4):1151-7. Epub 2006 Apr 13. PMID:16614245
Research group's MMPU link at EMBL web page.