Dear Guest,
We are very pleased that you have taken an interest in our department and us. In the following pages you, our patients, our visitors and our guests can gain a good overview of the medical services we offer, be introduced to our clinical colleagues, and learn how we go about our daily work here at the clinic.
If you should have any questions, please do not hesitate to contact us directly.
Sincerely yours,
Markus W. Buechler, MD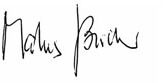 Professor and Chairman
Our intention:
To reach highest efforts in medicine and research for the patients' welfare.
The patient takes the centre stage.
For more information please browse our webpages...