Awards
---
March 2017: Awards for TLRC Scientists a the 8th International Workshop on Pulmonary Functional Imaging (IWPFI), Seoul, Korea, March 24-26, 2017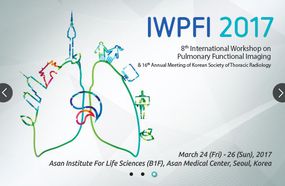 Staff of the Diagnostic & Interventional Radiololgy Department received awards in the following categories:
Best Scientific Presentation Award
Dr. med. Fabier Rengier for "Automated 3D volumetry of pulmonary arteries based on CT angiography for non-invasive estimation of pulmonary arterial pressure and diagnosis of pulmonary Hypertension"
Best Scientific Exhibition Award
Anja Dutschke (Resident) for "Assessment of Airway Instability and Respiratory Dynamics with low-Dose 4D-CT in Chronic obstructive pulmonary disease-preliminary results"
Dr. med. Mark O Wielpütz for "Magnetic Resonance Imaging Detects Mosaic Perfusion in Early Cystic Fibrosis Lung Disease"
Airway Vista 2017 Travel Award
Dr. med. Mark O Wielpütz for "Non-contrast Enhanced Ventilation and Perfusion Magnetic Resonance Imaging in Early Cystic Fibrosis Lung Disease"
Anja Dutschke (Resident) for "Evaluation of Respiratory Dynamics and Airway Instability with Low-Dose 4D-CT in Chronic Obstructive Pulmonary Disease ? Preliminary Results"
---
April 2016: Pediatric Pulmonologist, PD Dr. Olaf Sommerburg, receives Research Award
PD. Dr. Olaf Sommerburg, principal investigator at the TLRC, member of the German Center for Lung Resarch (

DZL), and senior physician at the Division of Pediatric Pulmonology, Allergology and Cystic Fibrosis Center at Heidelberg University Hospital, receives this year's Adolf-Windorfer-Prize (5000€) for his work on the "Evaluation of a biochemical method and its application in the newborn screening for cystic fibrosis in Germany".
The prize is awarded by the German Cystic Fibrosis Foundation (

Mukoviszidose e.V.) for excellent research in the area of cystic fibrosis.
---
June 2015: Dr. Jan Müller (TLRC - Junior Research Group "Structural and Functional Airway Imaging" Post-Doc) receives the European Society of Thoracic Imaging (

ESTI) and

Fleischner Society 2015 "Cum Laude" award for his poster "Lung magnetic resonance imaging for complications of lower airway tract infection in children". The joint meeting of ESTI and the Fleischner Society took place June 4-6, in Barcelona, Spain.
---

May 2015: At the 99th Annual Meeting of the German Society for Pathology in Frankfurt, Germany, PD Dr. Arne Warth received poster awards for "Histomorphological characteristics for the prognostic stratification of squamous cell carcinoma" and "Prognostic value of intra-alveolar tumor spreading in lung adenocarcinoma".
---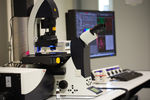 May 2015: Dr Susanne Dittrich receives an ATS Abstract Scholarship and Mukoviszidose e.V. travel award for "Neutrophil Elastase Activity on the Surface of Sputum Neutrophils is Associated with Severity of Cystic Fibrosis Lung Disease". The Abstract Scholarship certificate was presented at the 2015 Assembly Membership Meeting during the ATS International Conference in Denver, Colorado.
---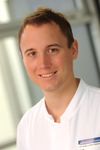 April 2015: Dr. Paul Flechsig (TLRC - Platform Imaging in the research group of Prof. Hans-Ulrich Kauczor) receives one of the Alavi-Mandell Publication Awards 2015 from the Society of Nuclear Medicine and Molecular Imaging for his publication entitled,

"Quantitative Volumetric CT-Histogram analysis in N-staging of FDG-equivocal patients with lung cancer". The award is given to individuals who were trainees/students at the time the work was carried out and made a major contribution to the completion of the project. Also, the individual is the first author of the paper published in the JNM.
form left to right: Prof. J. Behr (Deputy Chairman of the German Lung Fibrosis Society); PD. Dr. Michael Kreuter (Thoraxklinik Heidelberg, TLRC)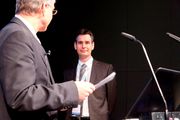 March 2015: PD Dr. Michael Kreuter receives the German Lung Fibrosis Society (

Lungenfibrose e.V.) Research Award 2015 for clinical reseach on the topic of "PCR-based diagnosis of Heliobacter Pylori infection in lung biopsies of patients with interstitial lung diseases".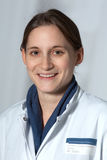 March 2015: Dr. Mirjam Stahl received a poster award for her oral presentation on "A comparative study of lung disease in children and adolescents with cystic fibrosis using MRI and MBW" at the

37th Annual Meeting of the Society for Pediatric Pneumology, in Basel.
January 2015: PD Dr. Arne Warth has received the

Excellence Grant of the Else Kröner-Fresenius-Foundation 2014. The Excellence Grant, endowed with 300.000€ over two years, acknowledges the outstanding individual effort of Clinician Scientists for pursuing a successful dual career as clinician and research scientist. The grant will further support Dr. Warth's research into dynamic changes of the morphology and the molecular makeup of pulmonary adenocarcinomas over time.

For more information please see the

press release (in German) from Heidelberg University Hospital.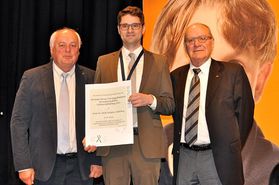 November 2014: Dr. Mark Oliver Wielpütz from the Department of Diagnostic and Interventional Radiology of the Heidelberg University Hospital and Principal Investigator of the Translational Lung Research Center Heidelberg (TLRC) was awarded the Christiane Herzog Award 2014 for work related to the development of magnetic resonance imaging (MRI) as a radiation free method for the detection of changes in lung structure and response to therapy in early Cystic Fibrosis.

Read more ...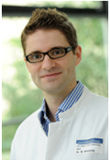 April 2014: Dr. Mark Wielpütz, leader of the junior research group "Structural and Functional Airway Imaging" at the TLRC has been awarded the

Best Scientific Paper Presentation Award 2014 within the topic "Chest" from the European Congress of Radiology.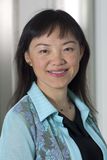 2011: Dr. Zhe Zhou, has been awarded the

Adolf-Windorfer Prize 2011 by the German Cystic Fibrosis Society (Mukoviszidose e.V.) for her work related to the therapeutic efficacy of amilorid in a mouse model for cystic fibrosis lung disease.
2011: Dr. Pinelopi Anagnostopoulou, has been awarded the

Selma-Meyer-Dissertation Prize of the German Society of Pediatrics and Adolescent Medicine (DGKJ) for her medical dissertation on "Modulation of airway epithelial ion transport by allergie airway inflammation in mice".