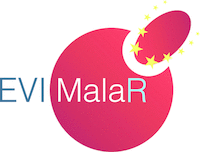 Funding for the EVIMalaR PhD Programme ended on 31 March 2015
Prof. Lanzer, Head of the Parasitology Unit at the Centre for Infectious Diseases, was head of the EU-funded EVIMalaR International PhD Programme on Biology and Pathology of the Malaria Parasite from October 2009 until March 2015.
EVIMalaR was a collaborative research Network of Excellence, funded by the European Commission and coordinated by the University of Glasgow. It engaged ~49 Principal Investigators from 34 institutions in Europe (29) and malaria endemic countries (5). The consortium conducted research on malaria parasites and their interactions with both mammalian hosts and mosquito vectors.
EVIMalaR's International PhD Programme aimed to train talented young scientists from both north and south in malaria research, with emphasis on interdisciplinary approaches. It thus offered a unique opportunity for students to become engaged in malaria research in world-leading malaria research institutions.
Training of the EVIMalaR students was conducted through the virtual European Malaria Graduate School, which was organized and operated in collaboration with the EMBL and the Heidelberg University.
22 PhD positions were available within the EVIMalaR PhD Programme to be staffed in two calls. During this first call 10 fellowships were awarded and during the second call 12 . All fellowships were linked to collaborative research projects, each supervised by two Principal Investigators from different countries.
For further information on EVIMalaR please visit http://www.evimalar.org/
For questions concerning the EVIMalaR PhD Programme please contact:
Ms Sandra Niebel
EVIMalaR PhD Programme Administration
Heidelberg University Hospital
Centre for Infectious Diseases, Parasitology
Im Neuenheimer Feld 324
69120 Heidelberg
Germany
Tel. ++49-(0)6221-567855