Cardio-Oncology
Team
Lorenz Lehmann, M.D. (

lorenz.lehmann@med.uni-heidelberg.de)
Daniel Finke, M.D. (

daniel.finke@med.uni-heidelberg.de)
Dr. med. Markus Heckmann, M.D. (

markus.heckmann@med.uni-heidelberg.de)
Ajith Kantharajah, M.D. (

ajith.kantharajah@med.uni-heidelberg.de)
Dr. Mariya Kronlage, M.D. (

mariya.kronlage@med.uni-heidelberg.de)
Dr. Lisa Tilemann, M.D. (

lisa.tilemann@med.uni-heidelberg.de)
Ines Ludwig (Study Nurse) (

ines.ludwig@med.uni-heidelberg.de)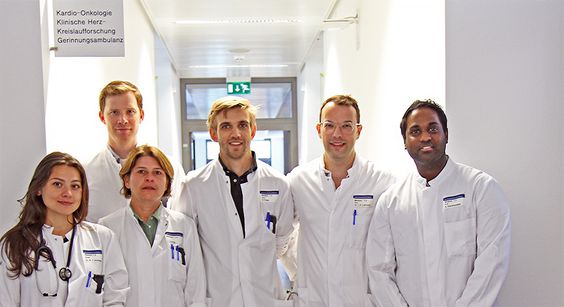 Cardio-Oncology Program
A major limitation for successful cancer therapies and a major factor of cancer related morbidity and mortality is the cardiac function. Moreover, cardiac disease and many cancer entities share common risk factors. However, knowledge about cardioprotective therapies, potential biomarkers and molecular mechanisms is limited.
The Cardio-Oncology program of the University Hospital of Heidelberg aims at investigating common risk factors for cardiotoxicity, molecular mechanisms and translational approaches.
We work together with specialists from the National Center for Tumor Disease, Heidelberg (NCT) to develop personalized strategies in case of potential cardiotoxic regimes.
For more information/appointments please call:
Tel.: 06221 - 56 8885
Physician Referrals:
Mon.-Wed., 8a.m. – 4p.m.
Follow us on Twitter:

Kardio-Onko@kardioonkologie

For further information, please write an email to:

ambulanz.kardioonkologie@med.uni-heidelberg.de
Schmitt, T., Mayer-Steinacker, R., Mayer, F., Grunwald, V., Schutte, J., Hartmann, J. T., Kasper, B., Husing, J., Hajda, J., Ottawa, G., Mechtersheimer, G., Mikus, G., Burhenne, J., Lehmann, L., Heilig, C. E., Ho, A. D., and Egerer, G. (2016) Vorinostat in refractory soft tissue sarcomas - Results of a multi-centre phase II trial of the German Soft Tissue Sarcoma and Bone Tumour Working Group (AIO). Eur J Cancer 64, 74-82
Schafer, M., Oeing, C. U., Rohm, M., Baysal-Temel, E., Lehmann, L. H., Bauer, R., Volz, H. C., Boutros, M., Sohn, D., Sticht, C., Gretz, N., Eichelbaum, K., Werner, T., Hirt, M. N., Eschenhagen, T., Muller-Decker, K., Strobel, O., Hackert, T., Krijgsveld, J., Katus, H. A., Berriel Diaz, M., Backs, J., and Herzig, S. (2016) Ataxin-10 is part of a cachexokine cocktail triggering cardiac metabolic dysfunction in cancer cachexia. Mol Metab 5, 67-78
Lehmann, L. H., Worst, B. C., Stanmore, D. A., and Backs, J. (2014) Histone deacetylase signaling in cardioprotection. Cell Mol Life Sci 71, 1673-1690