05/10/16
Wissenschaftspreis "Forschung im Verbund" für eine Strahlentherapie nach Maß
Gemeinsam mit der Fraunhofer-Gesellschaft zeichnet der Stifterverband exzellente Verbundprojekte der angewandten Forschung aus. Unter den diesjährigen Preisträgern sind Wolfgang Schlegel (DKFZ) und Jürgen Debus (DKFZ und Universitätsklinikum Heidelberg). Durch die Entwicklung einer interaktiven und leicht zu bedienenden Software tragen die Preisträger zu verbesserten Heilungschancen von Krebspatienten bei.
Für die Entwicklung einer interaktiven und leicht zu bedienenden Software für die Strahlentherapieplanung erhalten die Fraunhofer-Forscher Karl-Heinz Küfer, Michael Bortz, Alexander Scherrer, Philipp Süss und Katrin Teichert mit den Forschungspartnern Thomas Bortfeld (Massachusetts General Hospital, Boston) Wolfgang Schlegel (Deutsches Krebsforschungszentrum) und Jürgen Debus (DKFZ und Universitätsklinikum Heidelberg) und Christian Thieke (früher DKFZ, jetzt LMU München) den mit 50.000 Euro dotierten Preis des Stifterverbands 2016.
Wolfgang Schlegel (links) und Jürgen Debus | © dkfz.de
Die neue Software beschleunigt die Strahlentherapieplanung, erleichtert es, eine gute Balance zwischen Therapiechance und eventuellen Nebenwirkungen zu finden, und trägt letztlich zu verbesserten Heilungschancen bei. Die Jury hob "die breite Einsetzbarkeit des Verfahrens zur Behandlung der Volkskrankheit Krebs sowie den internationalen Marktbezug" hervor.

weiterlesen
The direct way from MRI to radiation treatment
18/12/2014
For the first time this year, the Roland Ernst Foundation for Medical Research awards a € 5000 prize for interdisciplinary radiological research. The award will be presented to scientists from the Research Program "Imaging and Radiooncology" of the German Cancer Research Center (Deutsches Krebsforschungszentrum, DKFZ) for an excellent cross-departmental project in cooperation with the University Hospital Heidelberg.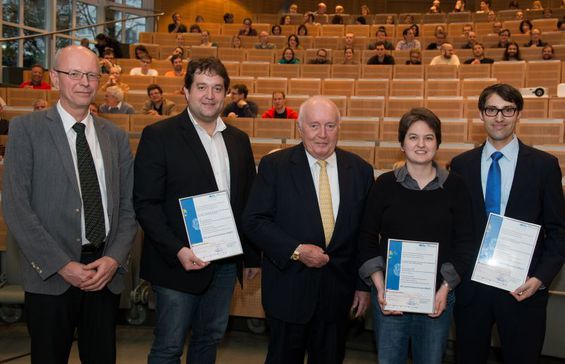 from left: Heinz-Peter Schlemmer, Florian Sterzing, Roland Ernst, Asja Pfaffenberger and Tilmann Bostel | © Tobias Schwerdt/DKFZ
This year's award winners are Dr. Tilmann Bostel and Asscociate Professor (PD) Dr. Florian Sterzing from the Clinical Cooperation Unit Radiation Oncology and Dr. Asja Pfaffenberger from the Division of Medical Physics in Radiation Therapy. They will receive the award in recognition of their cross-disciplinary project on MR-guided radiotherapy planning.
In a cross-disciplinary and cross-institutional collaboration, the two physicians Bostel and Sterzing and physicist Asja Pfaffenberger have developed a positioning system that makes it possible to transfer patients directly from an MRI device to a linear accelerator (LINAC) where they receive radiation treatment.
MRI (magnetic resonance imaging) is considered an ideal imaging technology to plan radiation therapy, to verify a patient's position immediately before radiation treatment, or to document the course of radiation therapy. MRI attains much better soft tissue contrast than commonly used computer tomography (CT) and additionally does not involve radiation exposure.
To date, experimental hybrid devices that combine LINAC and MRI exist only in few places in the world.
"The implementation of a combined MR-LINAC into the clinical workflow will be a great chance for a leap towards individualization of radiation therapy. Besides expertise and cutting edge-methods in a multitude of fields such as MR sequence development and new adaptation strategies including ultrafast registration, re- planning, motion tracking and dose accumulation, a hollistic view of this emerging technique is required. Questions of quality assurance and socioeconomic analyses of costs and benefits that accompanies all clinical applications need to be addressed. " Sais Prof. Jürgen Debus, Head of the Clinical Cooperation unit Radiation Oncology and Chairman of the Department of Radiation Oncology of the Heidelberg university hospital.
The shuttle system developed by the three award-winning scientists will now make it possible to transfer patients directly from an MRI device to a neighboring radiotherapy unit without repositioning. The system guarantees that the patient's position remains exactly identical throughout imaging and irradiation. This makes it possible to localize tumors and healthy tissue very precisely over the whole treatment period in order to adjust radiation therapy individually if the tumor has shifted since the last treatment or if its size has changed.
"Close collaboration across various disciplines has always been a characteristic of our Research Program," says coordinator Prof. Heinz-Peter Schlemmer. "Radiologists, nuclear medicine specialists, radiation therapists, medical physicists, chemists and computer scientists are all collaborating closely here to address medically relevant issues. And thanks to our excellent precision engineers, we can even produce our own prototype devices if needed."
This cross-disciplinary collaboration is also the prerequisite for the Roland Ernst Prize, whose statutes require a cross-departmental project that should also have the potential for translation into clinical applications.
Established in 1980 by Heidelberg construction entrepreneur Roland Ernst, the Roland Ernst Foundation supports medical research, particularly the DKFZ Research Program "Radiological Diagnostics and Therapy" (now: Imaging and Radiooncology). In addition, the foundation also sponsors art and culture projects.
To strengthen joint long-term multi-disciplinary activities that exist in Heidelberg between radiation oncology, radiation biology, and medical physics groups at DKFZ and University Hospital, the Heidelberg Institute of Radiation Oncology (HIRO) was established and together with OncoRay Dresden.awarded by BMBF as the National Center for Radiation Research in Oncology (NCRO).