Platform Biobank

The Biobank Team
State-of-the-art biobanking of lung tissue, blood and other biomaterials is essential to facilitating translational lung research. The Heidelberg Lung Biobank currently holds approximately 5500 fresh-frozen tissue specimens. Each year about 400-500 new tissue specimens and 2000 - 3000 new blood samples are added to the biobank.

Dr. Thomas Muley, head of the Heidelberg Lung Biobank, is also one of the coordinators of the

Platform Biobank of the German Center for Lung Research (DZL), which promotes translational research projects across institutions and provides a one-stop hub for easy access to biomaterials located at different DZL sites.
The Heidelberg Lung Biobank located at the Thoraxklinik at University Hospital Heidelberg is a member of the Tissue Bank of the

National Center for Tumor Diseases Heidelberg (NCT) (accredited DAP-IS-4153.04 according to DIN EN ISO / IEC 17020) and the

BioMaterialBank Heidelberg (BMBH). The NCT Tissue Bank is registered with the

German Technology and Method Platform for Medical Research Networks (TMF) and the

European Biobanking and Biomolecular Resources Research Infrastructure (BBMRI).
The Heidelberg Lung Biobank currently comprises the following specimens:
Fresh-cryopreserved lung and tumor tissue (surgical specimens, biopsies)
FFPE fixed tissue and multi tissue arrays (via NCT-Tissue Bank)
Blood samples (serum, plasma, buffy coat, PAX-Gene)
Samples of epithelial lining fluid
Extracted nucleic acids
Primary cell cultures
Soon the following material will complement the diagnostic specimen pool:
Exhaled breath condensate (EBC)
Bronchio-alveolar lavage and induced sputum
Each year about 400-500 new tissue specimens and 1000 new blood samples are added to the biobank. About two thirds of tissue samples are derived from lung cancer patients (tumor tissue plus matched normal lung tissue, lymph nodes). In addition, tissue of other thoracic malignancies (carcinoids, mesothelioma, thymoma, lung sarcomas), metastatic cancer to the lung (colorectal carcinoma, renal cell carcinoma etc.), and to a lesser extent benign lung diseases (hamartomas, interstitial lung diseases, COPD, pneumothorax) are collected (Fig.1).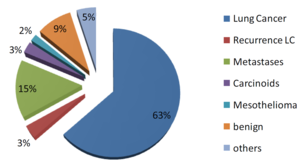 Figure 1: Fresh frozen tissue sample distribution across disease entities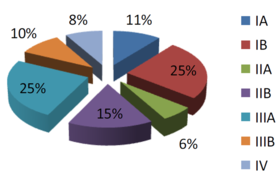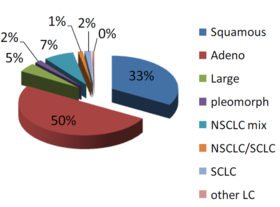 Figure 2a and 2b: Tissue sample classification by disease stage and histology
---
---
Specimen Processing and Quality Control
NSCLC tumors are known to be heterogeneous with regard to tumor cell composition and degree of necrosis, fibrosis, tumor stroma and connective tissue content. Our aim is to provide standardized high quality biomaterials for research purposes. To this effect our procedures are DIN EN ISO/IEC 17020 accredited.

Standard Operating Procedures exist among others for the following procedures:
Isolation of high quality nucleic acids (DNA, total RNA including miRNA)
Isolation and cultivation of primary cells from lung tumor tissue and adjacent normal lung tissue

The Heidelberg Lung Biobank has a long standing expertise in high quality TNM documentation of lung cancer handling about 1000 new cases each year. The biobank is operated on the basis of quality assured data management that is largely embedded in the clinical IT system.
Selected Projects and Collaborations

Heidelberger Institute for Personalized Oncology Program (DKFZ-HIPO) The recently established Heidelberg Center for Personalized Oncology forms a dedicated genomics, proteomics and bioinformatics platform of DKFZ, enabling excellent basic and translational research.

Precision Oncology Programme at the National Centre for Tumor Diseases (NCT-POP). This program seeks to provide a complete analysis of molecular alterations in human cancers treated at NCT, thus allowing therapeutic stratification of all cancer patients according to specific molecular targets found in their individual tumors.

The Cancer Genome Atlas (TCGA) is a comprehensive and coordinated effort to accelerate our understanding of the molecular basis of cancer through the application of genome analysis technologies, including large-scale genome sequencing.

Lungscape is a translational research project designed by the European Thoracic Oncology Platform (ETOP). The Lungscape program aims to address challenges of studying the molecular epidemiology oflung cancer.
The

NCT Tissue Bank functions as a central resource and technology platform for the Heidelberg campus and provides access to frozen and paraffin-embedded normal and tumor tissues, related clinical data, high-end tissue-technology and comprehensive project management.

Technologie- und Methodenplattform für die vernetzte medizinische Forschung e.V. (TMF) is the umbrella organization for networked medical research in Germany. Biobanking is regarded as a key resource for modern molecular medical research – the TMF operates the German Biobank Registry.
The European Union

Biobanking and Biomolecular Resources Research Infrastructure (BBMRI) has grown into a 54-member consortium with more than 225 associated organisations (largely biobanks) from over 30 countries, making it one of the largest research infrastructure projects in Europe.
Team
Lead scientist

Dr. Thomas R. Muley, Head of Heidelberg Lung Biobank, Translational Research Unit, Thoraxklinik at Heidelberg University Hospital, Co-coordinator of DZL-Biobank Platform
Co-Investigators
Dr. Marc Schneider, Biobank Manager, Lung Biobank, Translational Research Unit, Thoraxklinik at Heidelberg University Hospital

Dr. Michael Meister, Translational Research Unit, Thoraxklinik at Heidelberg University Hospital
Daniel Firnkorn, Data Manager, Translational Research Unit , Thoraxklinik at Heidelberg University Hospital and Institute for Medical Biometry and Informatics, Heidelberg University
Dr. Arne Warth, Institute of Pathology, Thorarcic Pathology, Thoraxklinik at Heidelberg University Hospital
Dr. Esther Herpel (Head of NCT-Tissue Bank), Intstitute of Pathology, Heidelberg University Hospital
Contact:
Dr. Thomas Muley
Sektion Translationale Forschung (STF)
Thoraxklinik am Universitätsklinikum Heidelberg
Amalienstr. 5
69126 Heidelberg
Germany
Tel. +49 (0) 6221 396 1110
Fax +49 (0) 6221 396 1652


E-Mail
Selected Publications
Schneider MA, Muley T, Kahn NC, Warth A, Thomas M, Herth FJ, Dienemann H, Meister M. Glycodelin is a potential novel follow-up biomarker for malignant pleural mesothelioma. Oncotarget. 2016 Oct 4. doi: 10.18632/oncotarget.12474.
Riediger AL, Dietz S, Schirmer U, Meister M, Heinzmann-Groth I, Schneider M, Muley T, Thomas M, Sültmann H. Mutation analysis of circulating plasma DNA to determine response to EGFR tyrosine kinase inhibitor therapy of lung adenocarcinoma patients. Sci Rep. 2016 Sep 19;6:33505. doi: 10.1038/srep33505.
Firnkorn D, Merker S, Ganzinger M, Muley T, Knaup P.Unlocking Data for Statistical Analyses and Data Mining: Generic Case Extraction of Clinical Items from i2b2 and tranSMART. Stud Health Technol Inform. 2016;228:567-71
Dietz S, Schirmer U, Mercé C, von Bubnoff N, Dahl E, Meister M, Muley T, Thomas M, Sültmann H. Low Input Whole-Exome Sequencing to Determine the Representation of the Tumor Exome in Circulating DNA of Non-Small Cell Lung Cancer Patients. PLoS One. 2016,11(8):e0161012.
Campbell JD, Alexandrov A, Kim J, Wala J, Berger AH, Pedamallu CS, Shukla SA, Guo G, Brooks AN, Murray BA, Imielinski M, Hu X, Ling S, Akbani R, Rosenberg M, Cibulskis C, Ramachandran A, Collisson EA, Kwiatkowski DJ, Lawrence MS, Weinstein JN, Verhaak RG, Wu CJ, Hammerman PS, Cherniack AD, Getz G; Cancer Genome Atlas Research Network, Artyomov MN, Schreiber R, Govindan R, Meyerson M. Distinct patterns of somatic genome alterations in lung adenocarcinomas and squamous cell carcinomas. Nat Genet. 2016 Jun;48(6):607-16
Warth A, Endris V, Stenzinger A, Penzel R, Harms A, Duell T, Abdollahi A, Lindner M, Schirmacher P, Muley T, Dienemann H, Fink L, Morresi-Hauf A, Pfarr N, Weichert W. Genetic changes of non-small cell lung cancer under neoadjuvant therapy. Oncotarget. 2016 Apr 20. doi: 10.18632/oncotarget.8858.

Firnkorn D, Ganzinger M, Muley T, Thomas M, Knaup P. A Generic Data Harmonization Process for Cross-linked Research and Network Interaction. Construction and Application for the Lung Cancer Phenotype Database of the German Center for Lung Research. Methods Inf Med. 2015, 54(5): 455-460.

Brenner DR, Amos CI, Brhane Y, Timofeeva MN, Caporaso N, Wang Y, Christiani DC, Bickeböller H, Yang P, Albanes D, Stevens VL, Gapstur S, McKay J, Boffetta P, Zaridze D, Szeszenia-Dabrowska N, Lissowska J, Rudnai P, Fabianova E, Mates D, Bencko V, Foretova L, Janout V, Krokan HE, Skorpen F, Gabrielsen ME, Vatten L, Njølstad I, Chen C, Goodman G, Lathrop M, Vooder T, Välk K, Nelis M, Metspalu A, Broderick P, Eisen T, Wu X, Zhang D, Chen W, Spitz MR, Wei Y, Su L, Xie D, She J, Matsuo K, Matsuda F, Ito H, Risch A, Heinrich J, Rosenberger A, Muley T, Dienemann H, Field JK, Raji O, Chen Y, Gosney J, Liloglou T, Davies MP, Marcus M, McLaughlin J, Orlow I, Han Y, Li Y, Zong X, Johansson M; EPIC Investigators, Liu G, Tworoger SS, Le Marchand L, Henderson BE, Wilkens LR, Dai J, Shen H, Houlston RS, Landi MT, Brennan P, Hung RJ. Identification of lung cancer histology-specific variants applying Bayesian framework variant prioritization approaches within the TRICL and ILCCO consortia. Carcinogenesis. 2015 Sep 10. pii: bgv128. [Epub ahead of print]
Kahn N, Riedlinger J, Roeßler M, Rabe C, Lindner M, Koch I, Schott-Hildebrand S, Herth FJ, Schneider A M, Meister M, Muley TR. Blood-sampling collection prior to surgery may have a significant influence upon biomarker concentrations measured. Clinical Proteomics.2015, 12:19; DOI: 10.1186/s12014-015-9093-6. URL: http://www.clinicalproteomicsjournal.com/content/12/1/19
Schneider MA, Granzow M, Warth A, Schnabel PA, Thomas M, Herth FJ, Dienemann H, Muley T, Meister M. Glycodelin: A new Biomarker with Immunomodulatory Functions in Non-Small Cell Lung Cancer. Clin Cancer Res. 2015, 21(15):3529-40.