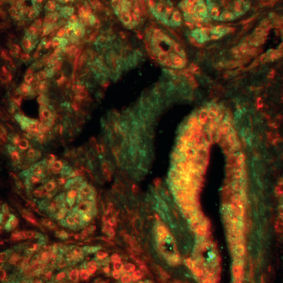 The tumor stem cell hypothesis
So far, little is known about why only some, but not all cells of a tumor acquire the ability to migrate through tissue barriers and spread to distant organs.

continue
Experimental models of pancreatic tumor stem cells
Pancreatic CSCs are characterized according to specific features. These include (I) self-renewal potential (by symmetric and asymmetric cell division), (II) differentiation potential for conversion into various types of cells....

continue

Fertilized chicken eggs as animal replacement method for therapy studies with patient tumors
In order to develop an ethical, simple and inexpensive test method for CSC markers that does not require animal testing, we transplant tissue from freshly resected patients' tumors to fertilized chicken eggs, instead of using the classical method of transplantation into mice.

continue
Bioactive agents from fruits and vegetables for tumor prevention and therapy
Our results show that the CSCs of pancreatic cancer are involved in pronounced resistance to therapy via a special mechanism, the NF-kB pathway. Sulforaphane, a bioactive substance from broccoli seems to break through this resistance.

continue
Nutritional study with broccoli sprouts to support the efficacy of conventional therapy of pancreatic cancer
To ensure that our research data is of benefit to patients, the European Pancreas Center of our hospital in cooperation with Prof. Schemmer and Mr. Lozanowski, are carrying out a two-arm prospective pilot study (POUDER Trial) on dietary supplementation with broccoli sprouts.

continue
Specific transfer of oncolytic adenoviruses via mesenchymal stem cells for elimination of pancreatic tumor stem cells
This project is carried out together with PD. Dr. D. Nettelbeck, of the German Cancer Research Center (DKFZ). As a therapy against pancreatic CSCs, oncolytic adenoviruses are used because they replicate predominantly in tumor cells.

continue
The function of intercellular communication in the development of a tumor stem cell character
When cells cease to communicate via "gap junctions" (GJs), stem cell characteristics and autonomous behavior are created. Inactive GJs prevent contact inhibition, programmed cell death and terminal differentiation, which makes the cell autonomous; that means it no longer responds to cellular regulatory mechanisms or chemotherapy.

continue
Examination of tumor stem cells features in Giant Cell Tumor of Bone
This project is carried out together with Dr. J. Fellenberg of the Orthopedic University Hospital Heidelberg. It goes back to the fusion of the Orthopedic Clinic and the University Clinic of Heidelberg in 2010.

continue