What causes chronic bowel disease?
Europe-wide network for investigating irritable bowel syndrome headed by Heidelberg University Hospital/European Science Foundation provides 500,000 euros in funding for understanding causes, improving options for diagnosis and treatment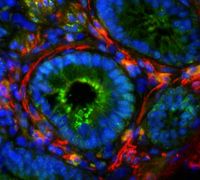 Intestinal mucosa cells under the microscope: Serotonin receptors are stained green, nerve fibers are stained red. Image: Heidelberg University Hospital.
For the first time, scientists from 19 European countries have joined forces to form an interdisciplinary network for investigating the causes of irritable bowel syndrome and improving options for diagnosis and treatment. The European Science Foundation is funding the network, entitled GENIEUR (Genes in Irritable Bowel Syndrome Europe) and headed by biologist Dr. Beate Niesler of Heidelberg University Hospital's Institute of Human Genetics, providing 500,000 euros over the next four years. Some five million patients in Germany suffer from symptoms including stomachache, constipation or diarrhea, frequently accompanied by other illnesses such as migraine, anxiety or depression, and often have these symptoms for years. To date, only symptoms of the disease can be treated.
Over 70 research groups are participating in the GENIEUR network. "GENIEUR is the world's first large-scale interdisciplinary approach to investigating irritable bowel syndrome," explained Niesler, head of the Neurogastrointestinal and Psychiatric Disorders Research Group at the Department of Molecular Human Genetics and spokesperson for the network. "Our goal is not just to identify characteristic changes in a patient's genome, but to also test an array of possible interactions, for instance, the interactions between and lifestyle, diet, allergies, mental illness, pain syndromes, past infections or changes in intestinal flora," Niesler said. It is also important to define uniform diagnostic criteria and subgroups of the syndrome, so that patients can benefit from a suitable treatment more quickly, she added. Besides gastroenterologists and human geneticists, the network also includes nutritionists, psychiatrists, immunologists, physiologists, neurobiologists, microbiologists, bioinformatic specialists and epidemiologists.
Certain changes in the genome promote irritable bowel syndrome
Irritable bowel syndrome (IBS) is one of the most common diseases of the intestinal tract. As much as 15 percent of Europe's population suffers from the disease, which strongly impacts the patients' overall well-being and quality of life. Depending on the type and severity of the symptoms, they are barely able to leave the house, cannot work or pursue their hobbies. Since little has been known about the causes of irritable bowel syndrome to date, diagnosis and treatment have been difficult. Currently, diagnosis is performed by ruling out other diseases, while for treatment trial and error is the only method available. Remedies that alleviate symptoms in some patients, such as special anti-inflammatory drugs, are completely ineffective for others, so that finding the right treatment can be a long and-drawn-out process that for some patients is not successful.
In 2008, the team headed by Niesler discovered that the nervous disturbances of the bowel can be exacerbated by changes in the genome. In patients who have IBS with diarrhea, the genetic blueprint for certain receptors in the bowel has often been changed. The receptors are located at the surface of the intestinal cells and bind the hormone serotonin. If they are changed, signal transmission in the bowel is disturbed. These research findings provided an initial approach for targeted drug therapy. "However, the receptors have changed in only some of the patients. We assume that several variants of this disease exist that can be attributed to different molecular causes in each case," Niesler said.
New diagnostic criteria intended to simplify treatment
In order to detect these molecular factors, the teams are now establishing the first biobank with stool and tissue specimens from patients and healthy controls and are systematically collecting patient data. In so doing, they are aiming to identify reliable biomarkers and compile a catalog of criteria to precisely assign patients to individual subgroups. "If physicians can reliably assign their patients to a certain group, they can better predict which treatments are most likely to benefit the patients." This may spare patients a long period of suffering," Niesler explained. In addition, the teams plan to use genetic analyses of the subgroups to obtain information on the mechanism by which each variation of the syndrome evolves and on possible treatment approaches.
More information is available on the Web: www.GENIEUR.eu
Participating centers in German with contact addresses:
Contact
Dr. Beate Niesler
Institute of Human Genetics, Department of Molecular Human Genetics
Heidelberg University Hospital
Tel.: +49 06221 56-35274
Email: beate.niesler@med.uni-heidelberg.de