Surgery after major stroke also improves survival odds in elderly patients
In patients over 60, hemicraniectomies save lives but do not prevent severe disability / Clinical study led by Heidelberg University Hospital's Neurology and Neurosurgery pub-lished in New England Journal of Medicine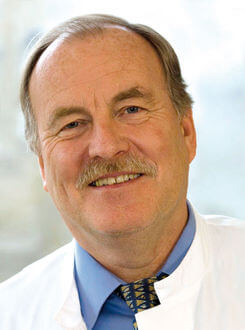 Professor Werner Hacke, Medical Director of Heidelberg University Hospital's Department of Neurology. Photo: Heidelberg University Hospital

Professor Andreas Unterberg, Medical Director of Heidelberg University Hospital's Department of Neurosurgery. Photo: Heidelberg University Hospital

Patients who are over the age of 60 and have suffered a major stroke due to blockage of the middle cerebral artery benefit from hemicraniectomy – removal of part of the skull located above the affected brain tissue. The procedure relieves increased pressure on the brain in the first 48 hours after the stroke. These patients' chances of survival increase two-fold if they undergo surgery. However, patients who have been operated on often survive with severe disabilities, while patients who do not undergo the surgery generally die quickly. These findings were obtained in a study conducted by 13 German stroke centers led by Heidelberg University Hospital's Departments of Neurology and Neurosurgery and have been published in the current issue of the renowned New England Journal of Medicine.

"For the first time, it has now been proven that for a cohort of elderly patients too, hemicraniectomy can save lives," explained Professor Werner Hacke, Medical Director of Heidelberg University Hospital's Department of Neurology. A study published 5 years ago showed that in patients below the age of 60, the results of the procedure are more favorable (see Lancet Neurology, 2007 under Literature). "In younger patients, the surgery tripled the chances of survival. In addition, they rarely sustained severe disabilities," said Professor Andreas Unterberg, Medical Director at Heidelberg University Hospital's Department of Neurosurgery. "We were not surprised by the lower treatment effect in the current study, since we know that the older a stroke patient, the poorer his or her prognosis."
Elderly patients: Overall poorer prognosis after severe stroke
The prognosis in patients with a blockage of the middle cerebral artery is very poor. In nearly 80% of the patients, without surgery, it causes death in a matter of days, even if they receive the maximum possible conservative intensive care. The necrotic brain tissue and its surroundings expand due to brain swelling (edema) and intracranial pressure severely increases, destroying vitally important brain tissue. The decompression surgery provides space for the swollen brain tissue in the critical phase. The exposed brain is covered with a protective membrane. Once brain swelling has decreased, the removed bone flap is replaced. The procedure has low risks, can be performed quickly and has few complications. Since its efficacy was proven in younger patients (below 60), it has become the standard treatment at many stroke centers. The surgery reduced mortality in younger patients from a rate of over 70% to around 20%.
Strict indications and additional studies warranted
The results of the current study are highly significant for the treatment of elderly stroke patients. The analysis includes 112 patients between the ages of 61 and 82 who had experienced a severe stroke and were treated with intensive care only or who underwent a hemicraniectomy within 48 hours of the stroke. The study was already stopped after the inclusion of 83 patients due to the clear superiority of the surgical procedure. The use of hemicraniectomies reduced the mortality rate from 70% to 33%. However, the proportion of very severely disabled patients in the group undergoing the procedure was nearly 30%.
"Many patients do not accept the notion of survival with severe disability, especially in very old age," Professor Unterberg reported. "For this reason, in older patients in particular, the pros and cons of the procedure must be discussed with the patients and their families," Professor Hacke added. Neurosurgeons and neurologists therefore need to discuss this type of treatment with patients and their families. Further studies may succeed in finding out which older patients especially will benefit from a hemicraniectomy.


Literature:
Hemicraniectomy in Older Patients with Extensive Middle-Cerebral-Artery Stroke; Jüttler, E., Unterberg, A., Woitzik, J. , Bösel, J., Amiri, H., Sakowitz, O., Gondan, M., Schiller, P., Lamprecht, R., Luntz, S., Schneider, H., Pinzer, Th., Hobohm, C., Meixensberger, J., and Hacke W., for the DESTINY II Investigators , N Engl J Med. 2014 March 20;370(12):1-9
Vahedi K, Hofmeijer J, Juettler E, Vicaut E, George B, Algra A, Amelink GJ, Schmiedeck P, Schwab S, Rothwell PM, Bousser MG, van der Worp HB, Hacke W; DECIMAL, DESTINY, and HAMLET investigators: Early decompressive surgery in malignant infarction of the middle cerebral artery: a pooled analysis of three randomised controlled trials. Lancet Neurol. 2007 Mar;6(3):215-22.
Internet:
Heidelberg University Hospital Department of Neurology:

http://www.klinikum.uni-heidelberg.de/Neurologische-Klinik.106839.0.html
Heidelberg University Hospital Department of Neurosurgery:

http://www.klinikum.uni-heidelberg.de/Neurochirurgische-Klinik.120354.0.html
Contact:
Professor Werner Hacke
Managing Director
Heidelberg University Hospital Department of Neurology
Tel: +49 (0) 6221 56-8210
Professor Andreas Unterberg
Managing Director
Heidelberg University Hospital Department of Neurosurgery
Tel: +49 (0) 6221 56-6301