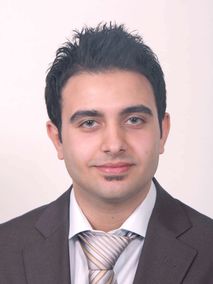 Dr.-Ing. Mahmoud Sharf
Research Fellow (Institut für Medizinische Informatik)
Research Fellow (MeDIC Heidelberg)

Medical/Professional background
since 01. January 2021

Wissenschaftlicher Mitarbeiter, Abteilung Medizinische Informationssysteme, Universitätsklinikum Heidelberg

01. September 2020 – 31. December 2020

Wissenschaftlicher Mitarbeiter, Abteilung Human-Computer Interaction, Technische Universität Kaiserslautern

October 2016 – February 2020

Wissenschaftlicher Mitarbeiter, Abteilung Human-Computer Interaction & Data Management, Sapienza University of Rome

January 2019 – December 2019

Gastwissenschaftler, Abteilung Service Computing, Institut für Architektur von Anwendungssystemen, Universität Stuttgart

November 2017 – December 2018

Gastwissenschaftler, Abteilung Innovation & Research, GK Software SE

June 2015 – November 2015

Praktikant und Forscher, Abteilung Human-Computer Interaction, Technische Universität Kaiserslautern

August 2012 – August 2013

Softwareentwickler, Abteilung IBM WebSphere & Hybris, Infinite Tiers Group
October 2016 – February 2020

Promotion zum Dr.-Ing. an der Abteilung HCI & Data Management der Sapienza University of Rome

Thema: Nutzung von Usability Engineering mit cloud-based service-oriented computing in smart environments (einschließlich Smart Healthcare, Smart Retail, und Smart Home)

November 2013 – July 2016

M.Sc. in Computer Science Engineering, Sapienza University of Rome

January 2008 – December 2012

B.Sc. in Computer Engineering, An-Najah National University
2015

Winner team with "Places" project at Google Workshop for Cloud & Web Development (organized by Google Tel-Aviv at Rome, Italy).

2012

Finalists with "Water Screen" project at Made in Palestine Innovation Exhibition (2012 league).
Planung, Entwurf, Architektur, Evaluation und Management von cloud-based service-oriented computing.

Forschungsschwerpunkte:

Data Management and Interoperability
Requirement und Usability Engineering
Smart Environments following IoT architecture (e.g., e-Health, Industry 4.0, etc.)

aktuell

Frühere Projekte

Eingereichte Projektentwürfe

Manufacturing: Supporting Engineering Technical Changes in Industry 4.0 with Cross-Reality applications.
Smart Building: Energy-Saving Automation via IoT.
Thema "Requirement und Usability Engineering" in den Lehrveranstaltung "Human-Computer Interaction" der Technische Universität Kaiserslautern.
Thema "Localization" in den Lehrveranstaltung "Smart Cities and Internet of Things" der Universität Stuttgart.
Coaching von Abschlussarbeiten