Working Groups
Neuroendocrine Tumours
Projects
The interaction of immune cells with pancreatic adenocarcinoma and neuroendocrine neoplasia of the pancreas in tissue, cell culture and 3D organoid culture and its significance for pathogenesis of tumour developmen

Tumour development and maintenance of pancreatic adenocarcinoma and pancreatic neuroendocrine neoplasia is known to be influenced by the patient's immune system. The role of the immune system and the micromilieu in the pancreas is, thus, centre of scientific research with regards to tumour pathogenesis. Development of a tumour seems to be promoted through recruitment of pro-inflammatory immune cells and consecutive secretion of pro-inflammatory cytokines. Spreading of a tumour, on the other hand, is thought to be accompanied by systemic and local immunosuppression by the tumour itself, but also through shifting of a proinflammatory micromilieu to an immunosuppressive environment. The interaction of tumour cells with immune cells, such as monocytes and macrophages, therefore leads to a change in the microenvironment of the tumour on the one hand, but may also results in a shift of macrophage polarisation on the other hand.
Aim of this project is the characterisation of the interaction between tumours cells of the pancreatic adenocarcinoma and the pancreatic neuroendocrine tumour with regards to the microenvironment. In order to examine this interaction and its role for tumour pathogenesis in a most realistic representation of the tumours microenvironment, 3D cell cultures (organoids) are used.

The link between PTN and menin in pancreatic neuroendocrine neoplasms

The heparin-binding growth factor pleiotrophin (PTN) is a secreted 18 kDa regulatory peptide with angiogenic properties, which is considered to be a proto-oncogene and is over-expressed in various malignancies such as breast, prostate, colon and skin cancer. Menin has been shown to repress PTN in non-small cell lung cancer and malignant melanoma cell. Since MEN1 is the most frequent mutated gene in sporadic pancreatic neuroendocrine neoplasms, the aim of this project is to examine the link between PTN and MEN1/menin.

Risk of metastasis of small pancreatic neuroendocine neoplasms

According to the recent guideline, pancreatic neuroendocrine neoplasms (pNEN) smaller than 2cm do not need to be resected. However, even in these tumors, the risk of lymph node metastasis is up to 27% in G2 differentiated pNEN. The aim of this project is the identification of genetic profiles for metastatic and non-metastatic pNEN below 2cm in order to identify and investigate genes responsible for metastasis. Secondly, this project aims at defining clear follow-up and therapeutic strategies.
Working Group Leader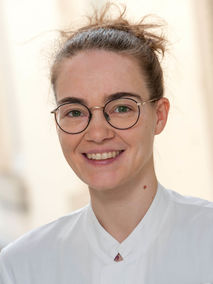 Dr. med. Anna Nießen
Team
Fabiola Bechtiger
Magdalena Lewosinska
Liping He
Funding

Most relevant publications
Niessen A, Bergmann F, Hinz U, Schimmack S, Hackert T, Buchler MW et al. Surgical resection for duodenal neuroendocrine neoplasia: Outcome, prognostic factors and risk of metastases. Eur J Surg Oncol 2020; 46: 1088-1096.
Lenschow C, Schragle S, Kircher S, Lorenz K, Machens A, Dralle H et al. Clinical presentation, treatment, and outcome of parathyroid carcinoma: Results of the nekar retrospective international multicenter study. Ann Surg 2020.
Niessen A, Schimmack S, Weber TF, Mayer P, Bergmann F, Hinz U et al. Presentation and outcome of mixed neuroendocrine non-neuroendocrine neoplasms of the pancreas. Presentation and outcome of mixed neuroendocrine non-neuroendocrine neoplasms of the pancreas. Pancreatology 2021; 21: 224-235.