Welcome to the Centre for Infectious Diseases, Parasitology
at Heidelberg University Medical School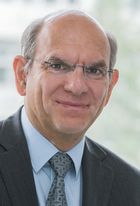 Parasitology is a science at the heart of clinical medicine, epidemiology, immunology, molecular biology and biochemistry.
It deals with some of the most important infectious diseases of mankind.
Parasitology has the potential to help us understand questions regarding the complexity of life and the subtle interactions between different species.
Parasitology may provide the tools to alleviate the suffering of millions of people tricken by parasites.
Learn more about us.
Prof. Michael Lanzer, Ph. D.
Highlight of the Month
Booklet on malaria by Friedrich Frischknecht as of NOW available

Malaria - deadly parasites, exciting research and no vaccination.

Find out about all this and more in Prof. Frischknecht's new booklet available as ebook and softcover (in German only). The booklet is meant for the interested public but also scientists and students with a non-biomedical background.

link to online shop

download product flyer