Translational Anesthesiology
Worldwide, more than 17% of patients undergoing non-cardiac surgery experience relevant perioperative complications. These complications are associated with increased morbidity and mortality (Pearse et al., BJA 2016) and are particularly common in high-risk patients. Different complications such as wound infections, coagulation disorders, organ dysfunction or cardiovascular events are associated with an inflammatory response and have common immunological and cell biological causes.
In a young, interdisciplinary team, together with multinational cooperation partners, we are investigating the so far poorly understood inflammatory mechanisms underlying these diseases. Our goal is to reduce the individual burden of perioperative complications for our patients. Using molecular and cell biological methods as well as sophisticated animal models, we develop and test possibilities for prophylaxis and therapy of perioperative cardiovascular events. In clinical trials, we are testing strategies to identify patients at risk and approaches to prophylaxis and therapy of perioperative complications.
Translational Anesthesiology Reaserch Groups
a. Translational Perioperativ Vascular Biology
b. Translational Perioperativ Data Science
Translational Perioperative Data Science: In order to be able to assess and take into account a patient's individual risk of complications as accurately as possible even before surgery, scientists at Heidelberg University Hospital want to use "machine learning" methods. As part of the "Cognitive Medical Assistant (KoMed)" project, an interdisciplinary team from the Departments of Anesthesiology and General, Visceral and Transplant Surgery will train an algorithm over the next two years to evaluate a large amount of clinical data from patients using Big Data analyses. The aim is to recognize patterns in the data and identify correlations that can be used to create individual risk profiles. KoMed, which was developed jointly with industrial partners, is intended to provide well-founded decision-making support in the future in order to avoid complications through appropriate treatment and care.
Machine learning (ML) algorithms have been increasingly used in the medical field in recent years. Ongoing technical advances in memory capacity and computer power offer the possibility of using ML in the perioperative setting. The literature has demonstrated superiority of ML algorithms over conventional models for predicting perioperative complications. In the HeiPoDD project, patient data are prospectively collected with the goal of developing new models for perioperative risk identification and prediction through this dataset and "explainable artificial intelligence".
Heidelberg Perioperative Deep Data Registry and Biomaterial Biobank - HeiPoDD Comprehensive and complete data sets are essential for scientific work in the context of perioperative patient care. For this purpose, the Heidelberg Registry Data and Biobank was established to ensure effective collection and storage of biobank samples and perioperative patient data in a comprehensive database. Biomaterial samples and routine data from patients undergoing major surgical procedures are included in the database after prior consent.
Up to 92 samples (including plasma/RNA/DNA/urine) from nearly 650 patients are stored here, resulting in approximately 51,500 samples currently in the biobank. These samples are combined with an extensive database of routine data (laboratory values, cross-sectional imaging, medication, intraoperative data on surgical course and hemodynamics as well as perioperative outcome and complications) via a medical data information center (MeDIC). Patients are followed up for up to 5 years after their inpatient stay, and follow-up data are added to the existing data set so that information beyond the perioperative setting can be included. Among other things, this overarching data collection enables projects in the field of machine learning and artificial intelligence, for example, to make perioperative risk assessment and decision support in everyday clinical practice possible.
Head of Research Group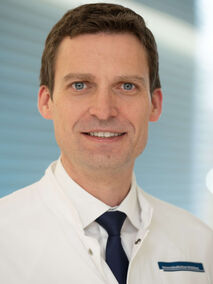 Permanent deputy of the Medical Director (Klinik für Anästhesiologie)
Chief Senior Physician (Klinik für Anästhesiologie)
Senior Physician (Klinik für Anästhesiologie)
Research Group Leader (AG Translationale Perioperative Vaskuläre Biologie)

Ständiger Stellvertreter des Ärztlichen Direktors
Leitender Oberarzt
Gesamtleitung Anästhesiologie und interdisziplinäre operative Intensivmedizin
Focus
Bereichsoberarzt Anästhesiologie in der Allgemein-, Viszeral- und Transplantationschirurgie
Members of the Research group
Topics