Welcome to the Centre for Infectious Diseases, Parasitology
at Heidelberg University Medical School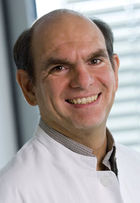 Parasitology is a science at the heart of clinical medicine, epidemiology, immunology, molecular biology and biochemistry.
It deals with some of the most important infectious diseases of mankind.
Parasitology has the potential to help us understand questions regarding the complexity of life and the subtle interactions between different species.
Parasitology may provide the tools to alleviate the suffering of millions of people tricken by parasites.
Learn more about us.
Prof. Michael Lanzer, Ph. D.
Highlight I of the Month - May
Highlight II of the Month - May
Publication by Dr. Markus Ganter featured on the cover of Nature Microbiology:
In the pathogenic blood stage of infection, Plasmodium falciparum cell-cycle progression is directed by the parasite-specific kinase CRK4. Without active CRK4, DNA replication is inhibited and the nuclei are deformed by spindle-like structures.
See Ganter et al. 2, 17017 (2017)
⇐ Image: Markus Ganter, Cover Design: Samantha Whitham