Welcome to the Centre for Infectious Diseases, Parasitology
at Heidelberg University Medical School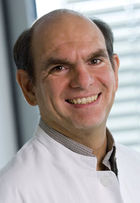 Parasitology is a science at the heart of clinical medicine, epidemiology, immunology, molecular biology and biochemistry.
It deals with some of the most important infectious diseases of mankind.
Parasitology has the potential to help us understand questions regarding the complexity of life and the subtle interactions between different species.
Parasitology may provide the tools to alleviate the suffering of millions of people tricken by parasites.
Learn more about us.
Prof. Michael Lanzer, Ph. D.
eLIFE podcast with spotlight on tropical diseases (episode 39)
In this special episode the podcast discusses diseases that are common in tropical countries including tuberculosis, Zika, malaria and schistosomiasis.
Here espacially: Malaria parasites on the move.
A protein called TRP1 allows the parasites that cause malaria to move inside mosquitos. This chapter is based on a recent research article by the Frischknecht group (

see article for further information)