PSYCHOSOMATISCHE VERSORGUNG UNTER DEN BEDINGUNGEN DER CORONA-PANDEMIE
Springer Charity Award 2020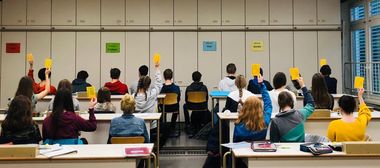 "Impf Dich" gewinnt den Springer Charity Award. Der unter Schirmherrschaft von Gesundheitsminister Jens Spahn vergebene Preis zeichnet das besondere Engagement von Organisationen aus, die sich ehrenamtlich für die Gesundheitsversorgung einsetzen und ist mit einem Preisgeld von 30.000€ und einem Mediabudget von 50.000€ verbunden. Die Auszeichnung erfolgte auf Bewerbung unseres studentischen Projektmitarbeiters Simon Hennes, der gemeinsam mit Frau Prof. Dr. Barbara Mueller (Infektiologie) und Herrn PD Dr. Jobst-Hendrik Schultz unter Leitung von Frau Dr. Franziska Bäßler das innovative Lehrprojekt zur Impfaufklärung "Going Viral" initiiert hat.
Lilly Quality of Life Preis
Oktober 2020
Dr. phil. Christina Sauer (Dipl.-Psych.), PD Dr. med. Imad Maatouk, Mitarbeiter der Klinik für Allgemeine Innere Medizin und Psychosomatik, und Professor Dr. phil. Joachim Weis (für die CCC-Unter-AG Psychoonkologie bei der Deutschen Krebshilfe), Universitätsklinikum Freiburg, erhielten am 19.10.2020 den mit 2.500€ dotierten Lilly Quality of Life Preis für herausragende Forschungsarbeiten im Bereich der Lebensqualität für ihre Arbeit "Impact of social support on psychosocial symptoms and quality of life in cancer patients: results of a multilevel model approach from a longitudinal multicenter study".
Gruppentherapeutisches Coaching für Patienten mit chronischen Schmerzen: Gemeinsam gegen den Schmerz!
Oktober 2020
Wir verstehen die Entstehung von Schmerzen als einen komplexen Prozess zwischen Körper und Seele, körperlichen Haltungen und mentalen Einstellungen, der nur durch kontinuierliches Üben und körperliches sowie mentales Training verändert werden kann. Neben medizinischen Informationen soll es daher um verschiedene Techniken gehen, die Ihnen den Umgang mit den Schmerzen erleichtern und Ihnen zeigen, wie Sie die Kontrolle über die Schmerzen gewinnen.
Ein Angebot der Heidelberger Studienambulanz für Klinische Schmerzforschung – mehr Informationen finden sie hier.
Übersicht über Preise und Auszeichnungen