---
Phenomenological Psychopathology and Psychotherapy
---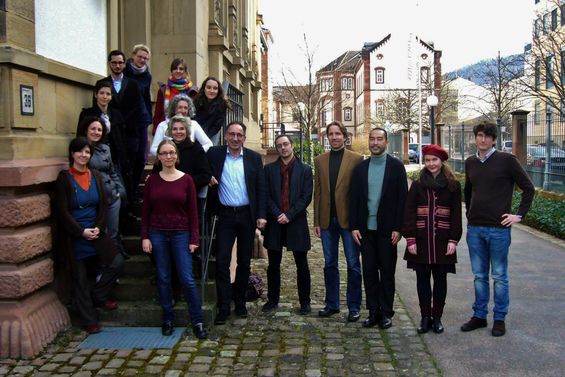 The interdisciplinary working group "Phenomenological Psychopathology and Psychotherapy", led by Prof. Dr. med. Dr. phil. Thomas Fuchs explores the underlying structures of subjective experience and their alternations within mental illnesses using both theoretical as well as empirical methodologies. Psychologists, philosophers and psychologists herefore work together on common issues such as changes of the self experience, the corporeality or the intersubjectivity within mental illnesses.
Current Events
Workshop: Phenomenological Anthropology, Psychopathology and Psychotherapy in Theory and Practice
04/05/2017, ZPM-Bibliothek, Thibautstraße 2, 69115 Heidelberg
Program
For registration, please contact: Daniel.Vespermann@med.uni-heidelberg.de
International conference:
Formation of Embodied Memory
06.04.-08.04.2017, HS 14, New University Heidelberg, 69117 Heidelberg
Scientific organisation: Prof. Dr. Dr. Thomas Fuchs (Heidelberg),
PD Dr. Christian Tewes (Heidelberg/Jena)
Further information: here
International conference:
19th Herbstakademie - "Embodied Aesthetics: Resonance in Perception, Expression and Therapy"
05.-07.10.2017, Heidelberg
Scientific organisation: Prof. Dr. phil. Wolfgang Tschacher (Bern), Prof. Dr. phil. Sabine Koch (Heidelberg/Alfter), Prof. Dr. Dr. Thomas Fuchs (Heidelberg)
Further Information: here
Prof. Dr. Dr. Thomas Fuchs, PD Dr. Christian Tewes
Forschungskolloquium "Philosophie, Psychiatrie, Psychosomatik"
Mi 18-19.30
ongoing
Next Colloquium:
Dr. phil. Dr. med. Boris Wandruszka
Sympathie, Empathie und "feeling" - das Gefühl als Resonanz-, Erkenntnis- und (Ver-)Bindungsorgan
22.02.2017

Current Publications (Selection)






Radio Report from the Deutschlandfunk on the DGAP-Conference "Das überforderte Subjekt - Psychopathologie und beschleunigte Lebensformen"
Heidelberg University Hospital, 2.-3. October 2015
Author: Martin Hubert, transcript:

here


Fuchs, T., Breyer, T., Micali, S., Wandruszka, B. (Eds.) (2014). Das Leidende Subjekt. Freiburg: Alber.