Genetics of Neurogastroenterologic Disorders
RESEARCH GROUP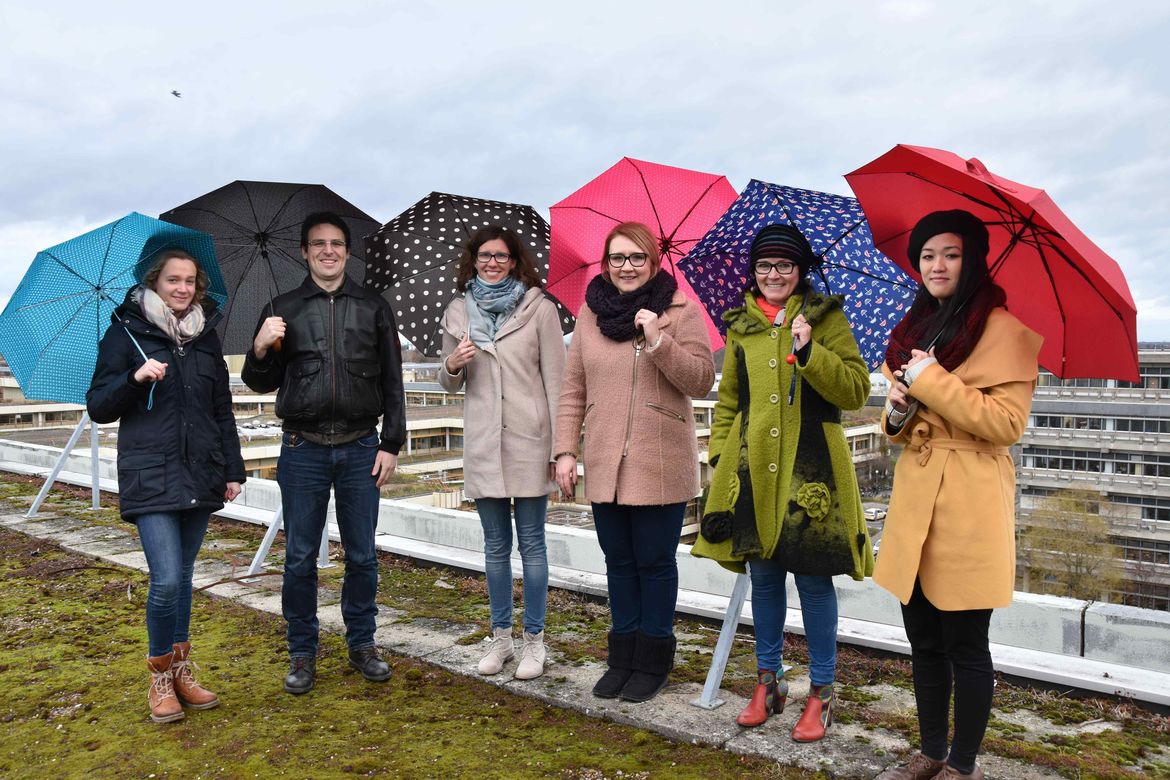 The team from left to right: Denise Dawid, Ignacio Vergara, Dr. Tanja Mederer (former group member), Dr. Stefanie Schmitteckert, Prof. Beate Niesler, Minh Thy Vu (missing: Vivianne Heins, Heike Kuzan, Dr. Yuanjun Dong, Dipl.-Ing. Ralph Röth).
Research Focus
Our research focus comprises the complex genetics of chronic intestinal diseases including neurogastroenterologic disorders as well as (comorbid) neuropsychiatric conditions and their underlying pathomechanisms. In particular, we have a longstanding interest in the Serotonin System as well as in Irritable Bowel Syndrome and Inflammatory Bowel Disease. Most recently, we also started working on Hirschsprung disease, a neurodevelopmental disorder of the enteric nervous system. By the generation of appropriate patient-derived Intestinal Cell Models, we aim to model and to understand underlying disturbed intestinal functions, with the overall goal to improve diagnostics and therapy options for individuals suffering from gastrointestinal conditions.
Currently we are focusing on the following projects:
Original Articles
Niesler B, Weiss B, Fischer C, Nöthen MM, ,Propping P, Bondy B Rietschel M, Maier W, Albus M, Franzek E, Rappold GA (2001). Serotonin Receptor Gene HTR3A variants in schizophrenic and bipolar affective patients. Pharmacogenetics 11: 21-27.

Niesler B, Frank B, Kapeller J, Rappold GA (2003). Cloning, Physical Mapping and Expression Analysis of the human Serotonin Receptor-like Genes HTR3C, HTR3D and HTR3E. Gene 310:101-111.

Niesler B, Walstab J, Combrink S, Moeller D, Kapeller J, Rietdorf J, Göthert M, Bönisch H, Rappold G, Brüss M. Characterization of the novel human serotonin receptor subunits 5-HT3C, 5-HT3D and 5-HT3E (2007). Mol Pharmacol 72(1):8-17.

Walstab J, Hammer C, Bönisch H, Rappold G, Niesler B (2008). Natural variants in the HTR3B gene significantly alter properties of the human heteromeric 5-HT3AB receptor, Pharmacogenet Genomics, Sep; 18(9):793-802.

Kapeller J, Houghton LA, Mönnikes H, Walstab J, Möller D, Bönisch H, Burwinkel B, Autschbach F, Funke B, Lasitschka F, Gassler N, Fischer C, Whorwell PJ, Atkinson W, Fell C,Büchner KJ, Schmidtmann M, van der Voort I, Wisser AS, Berg T, Rappold G, Niesler B (2008). First evidence for an association of a functional variant in the microRNA-510 target site of the serotonin receptor type 3E gene with diarrhea predominant irritable bowel syndrome, Human Molecular Genetics, Oct 1;17(19):2967-77. Epub 2008 Jul 9.

Hammer C, Kapeller J, Endele M, Fischer C, Hebebrand J, Hinney A, Friedel S, Gratacòs M, Estivill X, Fichter M, Fernández-Aranda F, Ehrlich S, Rappold G, Niesler B (2009). Functional variants of the serotonin receptor type 3A and B gene are associated with eating disorders, Pharmacogenet Genomics, Sep 8. [Epub ahead of print], Oct;19(10):790-9.

Walstab J, Hammer C, Lasitschka F, Connolly CN, Rappold G, Brüss M, Bönisch H, Niesler B (2010). Impact of the chaperone RIC-3 on the expression of human 5-HT3 receptors: role of the 5-HT3B, C, D and E subunits, JBC, 2010 Aug 27;285(35):26956-65. Epub 2010 Jun 3.

Kapeller J, Moeller D, Liu MT, Lasitschka F, Autschbach F, Hovius R, Rappold G, Brüss M, Gershon MD, Niesler B (2010). 5-HT receptor diversity in the human colon: expression of novel 5-HT3 receptor subunits 5-HT3C, 5-HT3D and 5-HT3E. Journal of Comparative Neurology, 2011 Feb 15;519(3):420-32.

Kilpatrick L, Labus JS, Coveleskie K, Hammer C, Rappold G, Tillisch K, Bueller JA, Suyenobu B, Jarcho M, McRoberts JA, Niesler B*& Mayer EA* (2011).The HTR3A Polymorphism c. -42C>T Is Associated With Amygdala Responsiveness in Patients With Irritable Bowel Syndrome, Gastroenterology, 2011 Mar 17. [Epub ahead of print] *joined senior authorship

Beyer T, Danilchik M, Thumberger T, Vick P, Bogusch S, Andre P, Ulmer B, Walentek P, Niesler B, Blum M, Schweickert A (2012). Serotonin signaling is required for Wnt-dependent GRP specification and leftward flow in Xenopus, Current Biology, Jan 10;22(1):33-9. Epub 2011 Dec 15.

Hammer C, Cichon S, Mühleisen TW, Haenisch B, Degenhardt F, Breuer R, Witt S, Strohmaier J, Oruc L, Rivas F, Babadjanova G, Grigoroiu-Serbanescu M, Hauser J, Röth R, Rappold G, Rietschel M, Nöthen MN, Niesler B (2012). Replication of functional serotonin receptor type 3A and B variants in bipolar affective disorder: a European multicenter study, Transl Psychiatry 2: e103; doi:10.1038/tp.2012.30

Walstab J, Krüger D, Stark T, Hofmann T, Demir IE, Ceyhan GO, Feistel B, Schemann M, Niesler B (2013). Ginger and its pungent constituents non-competitively antagonise human recombinant and native 5-HT3 receptors of enteric neurons, Neurogastroenterol Motil. 2013 Mar 12. doi: 10.1111/nmo.12107. [Epub ahead of print]>> Research Highlight Nature Gastroenterology and Hepatology March 2013, doi:10.1038/nrgastro.2013.54

Hristov G, Marttila T, Durand C, Niesler B, Rappold G, Marchini A (2013) SHOX triggers the lysosomal pathway of apoptosis via oxidative stress in U2OS osteosarcoma cell line, Human Molecular Genetics, 2014 Mar 15;23(6):1619-30. doi: 10.1093/hmg/ddt552. Epub 2013 Nov 1.

Hammer C, Degenhardt F, Priebe L, Stütz A, Heilmann S, Waszak S, Schlattl A, Mangold E, Hoffmann P, MooDS Consortium, Nöthen MM, Rietschel M, Rappold G, Korbel J, Cichon S, Niesler B (2014). A common microdeletion affecting a hippocampus- and amygdala-specific isoform of tryptophan hydroxylase 2 is not associated with affective disorders, Bipolar Disorders 2014 Apr 23. doi: 10.1111/bdi.12207. [Epub ahead of print]

Walstab J, Wohlfarth C, Wink M, Bönisch H, Niesler B (2014). The natural compounds menthol and boldine are antagonists of human 5-HT3 receptors,Neurogastroenterology and Motility. 2014 Jun;26(6):810-820. doi: 10.1111/nmo.12334. Epub 2014 Apr 8.
Almouzni G, Altucci L, Amati B, Ashley N, Baulcombe D, Beaujean N, Bock C, Bongcam-Rudloff E, Bousquet J, Braun S, de Paillerets BB, Bussemakers M, Clarke L, Conesa A, Estivill X, Fazeli A, Grgurevi NA, Gut I, Heijmans BT, Hermouet S, Houwing Duistermaat J, Iacobucci I, Ila J, Kandimalla R, Krauss-Etschmann S, Lasko P, Lehmann S, Lindroth A, Majdi G, Marcotte E, Martinelli G, Martinet N, Meyer E, Miceli C, Mills K, Moreno-Villanueva M, Morvan G, Nickel D, Niesler B, Nowacki M, Nowak J, Ossowski S, Pelizzola M, Pochet R, Poto Nik U, Radwanska M, Raes J, Rattray M, Robinson MD, Roelen B, Sauer S, Schinzer D, Slagboom E, Spector T, Stunnenberg HG, Tiligada E, Torres-Padilla ME, Tsonaka R, Van Soom A, Vidakovi M, Widschwendter M. (2014) Relationship between genome and epigenome - challenges and requirements for future research. BMC Genomics. 2014 Jun 18;15(1):487. [Epub ahead of print]

Ek WE, Ripke S, Rivera NV, Zucchelli M, Niesler B, Schmidt PT, Pedersen NL,Magnusson P, Talley NJ, Holliday L, Houghton LA, Gazouli M, Karamanolis G, Rappold G, Burwinkel B, Surowy H, Rafter J, Assadi G, Li L, Papadaki E, Gambaccini D, Marchi S, Colucci R Barbaro R, Karling P, Walter S, Ohlsson B, Tornblom H, Bresso F, Andreasson A, Dlugosz A, Simren M, Agreus L, Lindberg G, Boeckxstaens G, Bellini M, Stanghellini V, Barbara G, Daly MJ, Camilleri M, Wouters MM, D'Amato M (2014). Exploring the genetics of irritable bowel syndrome: a GWA study in the general population and replication in multi-national case-control cohorts. Gut. 2014 Sep 23. pii: gutjnl-2014-307997. doi: 10.1136/gutjnl-2014-307997. [Epub ahead of print].
Reviews
Walstab J, Rappold G, Niesler B (2010). 5-HT3 receptors: role in disease and target of drugs, Pharmacology and Therapeutics, 2010 Oct;128(1):146-69. Epub 2010 Jul 16.2010 Jul 16. [Epub ahead of print]
Niesler B, (2011). 5-HT3 Receptors: Potential of individual isoforms for personalised therapy, Curr Opin Pharmacol. 2011 Feb;11(1):81-6. Epub 2011 Feb 21.
Walstab J, Hammer C, Niesler B (2011). Individuelle Serotonin3-Rezeptor (5-HT3R)-Subtypen als Ziel einer optimierten anti-emetischen Therapie bei Krebspatienten, Onkologie heute, Nr. 2 , März 2011.
last up-date 17.11.2014
Further Links