Chronisch Lymphatische Leukämie (CLL)
Erforderliches Probenmaterial
Leukämiediagnostik - klassische Cytogenetik:
10 ml heparinisiertes peripheres Blut (kein Knochenmark)
NH4-Heparinat S-Monovetten (Sarstedt REF 01.1603) oder Einmalspritzen mit ca. 20 bis max. 200 µl Heparin-Natrium (5000 I.E./ml) (Endkonzentration 10 bis max. 100 I.E. Heparin/ml Probenmaterial). Bitte kein Li-Heparinblut oder EDTA-Blut senden!
Leukämiediagnostik - molekulare Cytogenetik:
10 ml heparinisiertes peripheres Blut (kein Knochenmark)
Probenversand
Heparin-Vollblut für cytogenetische und molekular-cytogenetische Untersuchungen sollte ungekühlt per Express geschickt werden. Die Probentransportzeit ist in der Cytogenetik von größerer Bedeutung, da hier fast immer Zellkulturen angelegt werden müssen. Das Untersuchungsmaterial sollte etwa innerhalb von 24 Stunden im Labor sein.
Bitte senden Sie die Proben an folgende Adresse:
Universitätsklinikum Heidelberg
Institut für Humangenetik
je nach angeforderter Untersuchung:
Labor für Molekulare Cytogenetik/ oder
Labor für Cytogenetische Diagnostik
Im Neuenheimer Feld 366
69120 Heidelberg
Probenkennzeichnung
Bitte beschriften Sie jedes Probengefäß deutlich lesbar mit dem Namen, Vornamen und Geburtsdatum des Patienten und benutzen Sie unsere Anforderungsscheine.
Die Anforderungsscheine sind so aufgebaut, dass uns alle erforderlichen Angaben zum Patienten und die Patienteneinverständniserklärung (wo erforderlich) zu dem Untersuchungsauftrag vorliegen.
Bitte füllen Sie die Anforderungsscheine sorgfältig aus, um unnötige Nachfragen zu vermeiden, und haben Sie bitte Verständnis dafür, dass wir unbeschriftete Probengefäße nicht annehmen können.
Anforderungsschein Leukämien und Lymphoproliferative Erkrankungen
Weitere Informationen
Untersuchungsmethode:
In Abhängigkeit von der Fragestellung sind sowohl molekular-cytogenetische und cytogenetische Untersuchungen indiziert. Mittels FISH-Diagnostik lassen sich bei 80% der Patienten Chromosomenaberrationen nachweisen.
Literatur:
Atlas of Genetics and Cytogenetics in Oncology and Haematology
OMIM: 151400
Bearbeitungszeitraum:
Molekular-Cytogenetische Untersuchung: 1-2 Wochen nach Auftragseingang
Cytogenetische Untersuchung: 2-3 Wochen
Ansprechpartnerinnen
Prof. Dr. sc. hum. Anna Jauch
Email
+49 6221 56-5407
+49 6221 56-5091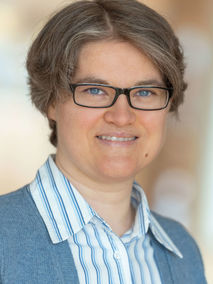 Dr. med. Karin Burau, M.Sc.