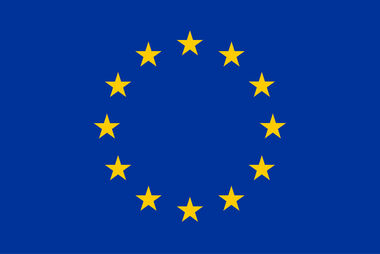 REDUCING NUTRITION-RELATED NONCOMMUNICABLE DISEASES IN ADOLESCENCE AND YOUTH: INTERVENTIONS AND POLICIES TO BOOST NUTRITION FLUENCY AND DIET QUALITY IN AFRICA
Acronym: NUTRINT
Principal Investigators: Dr. Mary Mwanyika Sando & Prof. Dr. Dr. Till Winfried Bärnighausen
Funding: European Commission
Participating Organizations: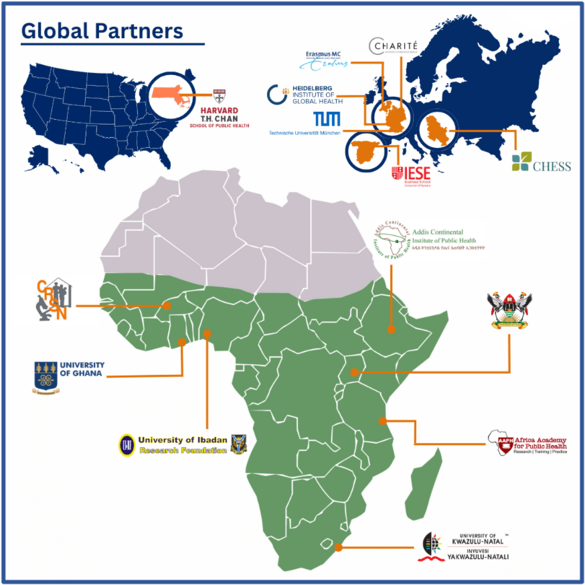 Network Partners
1. Africa Academy for Public Health (AAPH)
2. Addis Continental Institute of Public Health (ACIPH)
3. Center For Health, Exercise and Sport Sciences (CHESS)
4. Charité – Universitätsmedizin Berlin (Charité)
5. Erasmus University Medical Center (EMC)
6. IESE Business School University of Navarra (IESE)
7. Nouna Health Research Centre (CRSN)
8. Makerere University School of Public Health (MakSPH)
9. University of Ghana (UG)
10. University of Ibadan Research Foundation (UIRF)
11. University of KwaZulu-Natal (UKZN)
12. Heidelberg University – Heidelberg Institute of Global Health (HIGH)
13. Technical University of Munich (TUM)
14. Harvard T. H. Chan School of Public Health (HSPH)
Project Leads
Richard Adanu Ghana Representative
Ali Sié Burkina Faso Representative
Ayoade Oduola Nigeria Representative
Mary Mwanyika Sando Tanzania Representative
David Guwatudde Uganda Representative
Mosa Moshabela South Africa Representative
Yemane Berhane Ethiopia Representative
Wafaie Fawzi American Representative
Till Bärnighausen German Representative
Michael Laxy German Representative
Shuyan Liu German Representative
Magda Rosenmöller Spanish Representative
Sergej Ostojic Serbian Representative
Jan Hontelez Dutch Representative
ABOUT THE ARISE NETWORK
The Africa Research, Implementation Science, and Education (ARISE) network was established in 2014 by the Africa Academy for Public Health (AAPH) as a response to a clear and compelling need for greater, more sustainable public health capacity in Africa. A collaborative effort between leading African institutions as well as the Harvard T.H. Chan School of Public Health and the Heidelberg Institute of Global Health, ARISE serves as a platform for robust research and cutting-edge education in the region. The ARISE network is comprised of member institutions from nine sub-Saharan African countries.
Together, this group of distinguished colleagues is working toward advancing implementation science in priority research areas and developing the next generation of public health leaders in Africa. The ARISE network has vast experience and particular expertise in the areas of maternal, neonatal, and child health (MNCH). Given the importance of adolescent health for sustaining improvements made in childhood and for advancing maternal health, the ARISE network is also focusing on adolescence as a priority issue. ARISE implementation science research aims to target multiple domains of adolescent health and MNCH, with a particular focus on nutrition-specific and nutrition-sensitive interventions.
The ARISE network's strong track record of impactful programs demonstrates our ability to link researchers and decision makers across disciplines to develop and carry out programs, identify gaps, and create sustainable solutions together. Recognizing that public health professionals across the region not only face similar challenges—often in isolation of one another—but also bring unique, valuable perspectives, ARISE creates opportunities for continuous information sharing and collaboration. Strengthened through combined experience and expertise, ARISE empowers public health leaders to address some of sub-Saharan Africa's most pressing health needs.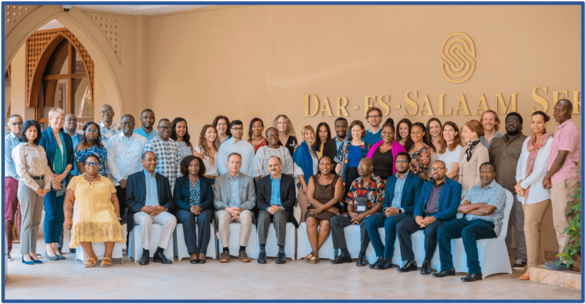 ARISE-NUTRINT researchers photographed at the Kick-Off meeting in Dar Es Salaam, Tanzania
Summary
This project aims to deliver a better understanding of diets and nutrition and physical activity-related risks of non-communicable diseases among adolescents in seven countries in SSA, how to optimize implementation of evidence-based interventions that promote healthy behaviours among adolescents and youth, long-term costs-and effects and impact of these interventions, and the factors that lead to the adoption, scale up, sustainment, and knowledge translation of these interventions. Given this tremendous burden noncommunicable diseases pose in Sub-Saharan Africa, our proposed project will ultimately contribute to improving the health, economic and broader societal outcomes of all in the region. Results from the proposed project could also be transferable to other low-and middle-income country contexts struggling to tackle the growing burden of nutrition-related noncommunicable diseases among adolescence and youth.
Our overall objective is to establish a global alliance to prevent and reduce nutrition-related noncommunicable diseases (NCDs) among adolescence and youth in Africa, by boosting adolescents' health behaviours and outcomes through nutrition literacy and fluency and by providing critical policy information and tools to scale and sustain interventions and policies to support adolescents in healthy food consumption and lives.
To reach this overall objective and to address the identified research and societal needs, we will pursue the following specific objectives (SO) and research results (RR):
Scientific Objective SO1: Identify the key nutrition-based adolescent health risk factors inducing long-term chronic disease burdens across 7 African countries, spanning Western, Eastern, and Southern Africa
RR1.1: Nutrition-related risk factors identified that put adolescents in Africa at high lifetime risk of NCDs.
RR1.2: Exercise-related risk factors identified that put adolescents in Africa at high lifetime risk of NCDs
RR1.3: Policy, psychosocial and sociostructurally contextual risk factors identified that prevent food systems and environments from maximally supporting adolescents in healthy nutrition for healthy lives
Scientific Objective SO2: Design an adolescent nutrition fluency intervention (ANFI) for African regions
RR2.1: Deep qualitative understanding of adolescent nutrition literacy and fluency needs developed.
RR2.2: ANFI designed and prototype-tested.
Scientific Objective SO3: Establish the effectiveness and performance of sugar-sweetened beverage (SBB) tax policies in African countries in reducing adolescent SBB consumption and improve health outcomes
RR3.1: Causal impact of SBB tax policies on adolescent behaviours and outcomes in South Africa, Nigeria and Ghana estimated.
RR3.2: Mechanisms of SBB tax policies affecting adolescents elucidated.
RR3.3: Causal impact of SBB transported to countries in Africa where SBB tax policies have not been implemented.
Scientific Objective S04: Create and test an entertainment-education video intervention to boost adolescent health fluency through social media
RR4.1: Existing entertainment-education videos adapted to four contexts in Africa
RR4.2: Mechanisms and context of use and performance of the videos among adolescents elucidated.
Scientific Objective SO5: Determine the long-term and at-scale impact and cost-effectiveness of AFNI and SSB tax policies in African regions
RR5.1: Cost of NCD treatment and care and AFNI delivery in African regions established.
RR5.2: Long-term impact and cost-effectiveness of AFNI and SSB tax policies on adolescents' health and life course health attainment estimated.
Scientific Objective SO6: Prepare nutrition-related policies and interventions for exploitation to boost adolescent health
RR6.1: Applicable nutrition solutions for adolescents across African regions identified.
RR6.2: Regulatory requirements and financial viability of nutrition solutions for adolescents checked for African contexts.
Scientific Objective SO7: Create and use an Africa Think Tank for Adolescent and Youth Health (AATAYH)
Scientific Objective SO8: Develop a platform for high-quality, safe and efficient population-based longitudinal quantitative and qualitative adolescent health and nutrition research in across African regions
Scientific Objective SO9: Successfully govern and implement a research agenda across 7 African countries focused on supporting adolescents in achieving healthy nutrition for healthy lives
Duration: January 2023 to January 2027
Contact persons: Joy Mauti (joy.mauti(at)uni-heidelberg.de) and Irene Brandt (irene.brandt(at)uni-heidelberg.de)