Climate Change, Nutrition and Health Working Group
Teaching

Summer school "TRENDS IN NUTRITION EPIDEMIOLOGY"
Deadline extended to 25th July 2023
ANNOUNCEMENT AND CALL FOR APPLICATION
07 – 11 August 2023, Heidelberg, Germany

Summer School

The Heidelberg Institute of Global Health at the University Hospital Heidelberg, Germany, is pleased to announce the Summer School 2023 "Trends in Nutrition Epidemiology" to be held in Heidelberg, Germany, between 07th and 11th August, 2023.
The Summer School aims to provide participants with in-depth understanding of nutrition epidemiology with a focus on sustainable diets in vulnerable population groups. More specifically, this course will:
Familiarize participants with culture-specific assessment methods of dietary intake and the food environment,
Guide participants on novel approaches to model dietary exposures,
Provide knowledge to the participants about healthy and environmentally friendly diets in specific population groups,
Present methodological approaches to optimize the sustainability of diets,
Introduce approaches for deriving dietary guidelines.
The course covers 5 days of training with 38 academic hours. A group of experts in various areas of nutrition epidemiology will deliver the course using interactive and participatory teaching methods. The course will also include two group activities with presentations and an educative excursion on sustainable food production in/around Heidelberg. Please see the attached course programme for more details. Full attendance (100%) in the course, active participation in group work, and timely submission of assignments are expected.
Participant's profile
You are eligible to apply if you have:
a Bachelor's or Master's degree in human nutrition, nutrition science, food and nutrition science, dietetics or another topic-related subject;
basic epidemiological skills will be helpful to actively participate in the course (preferable, not mandatory).
Participation fee
The course participation fee is €100,00 (one hundred euros). This fee also covers coffee-breaks and lunches during the course, 07-11 August 2023. One group dinner on a self-payer basis is planned during the course week.
Other expenses
All expenses incurred by the participation in the Summer School shall be covered by the
participants. These expenses may, depending on your country of residence, include (but are
not limited to) the following:
Visa
International/Regional travel
Travel health insurance
Airport shuttle / train
Accommodation and meals during the stay in Heidelberg (breakfasts and dinners)
Transportation in Germany
The organizers can, upon request, provide invitation letters for visa application. Childcare is
available on the campus of Heidelberg University Hospital, and can be arranged upon
request.
Application procedure
Your application shall consist of 2 parts:
A short CV, max. 2 pages, highlighting your background and experience relevant for the Summer School;
A letter of motivation, max. 1 page, stating your motivation for participation and your special interest in the topic, a short description of your present duties / position and what this seminar will add to your professional and / or personal development.
Please send your application with the subject line "Summer School 2023_your name_country"
to Prof. Ina Danquah at ina.danquah@uni-heidelberg.de latest by 25th July 2023.

All applicants will be informed about the results of the selection process by 30th June 2023.

For further questions, please contact the Summer School coordinators:
Mr Don Claudio Umesh at claudio.umesh(at)uni-heidelberg.de
Prof. Ina Danquah at ina.danquah(at)uni-heidelberg.de
Please click here to view the course programme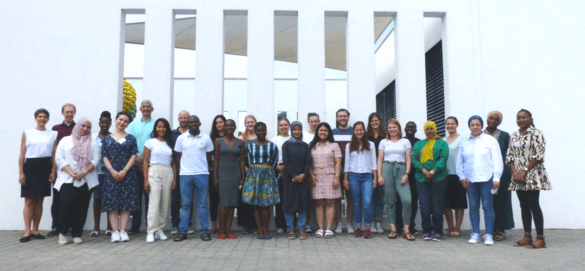 Summer School "Trends in Nutrition Epidemiology" 2022
Please click here to view the evaluation results
1. Presence Courses
Climate Change and Health for Medical Students (4 hours)

Short Course: Climate Change and Health: Impact and Adaptation Strategies 2 weeks since 2009, 3 ECTS credits

Short course (TropEd accredited), in French: Changement climatique dans le context Africain
Offered together with the Centre de Recherche en Santé de Nouna, Burkina Faso, Africa since 2011
2 weeks, 3 ECTS credits
Advanced research methods in Climate change and health
Developed by RS with Umea University, 3 ECTS credits, taught in Umeå
Special Topics in Environmental Health: Research Methods to Study the Impact of Climate Change on Health, T.H. Chan School of Public Health, Harvard University
8 weeks, 2.5 ECTS, Spring 2018
Taught by Visiting Professor Rainer Sauerborn, with teaching assisted by Dr Aditi Bunker and Sandra Barteit. The course provides hands-on skills to use existing high quality health data from Africa and Asia to analyze the impact of climate change on mortality (by cause, age and sex, location and day of death). Course teaches main statistical tool to do this, time series analysis. Hands-on part included working with daily weather data (temperature, rainfall e.g.) from publicly available sources for the chosen study area and time period. The course uses whole population, longitudinal, retrospective, long term (since 1990) high quality health cohort data (Health and Demographic Surveillance Systems)
More Information (Course Flyer)
2. Massive Open Online Courses (MOOCs)
1. MOOC for Climate Policy Makers: "Why health is a key argument for climate negotiations"
Developed for delegation members of the COP21, but useful for anybody interested in climate policy. As an "Executive MOOC" it is extremely short (2 days, 5 videos, plus extensive background material). Available any time HERE
Language: English
Subtitles: Mandarin, Hindi, Indonesian, Arabic, Portuguese, Spanish

2. General MOOC: "Climate change and Health"
Five weeks, a classic MOOC for anybody anywhere, first taught in February/March 2016. Available HERE.
Language: English
Subtitles: Mandarin, Hindi, Indonesian, Arabic, Portuguese, Spanish, French

3. MOOC by Africans for Africans: "Changement climatique dans le context sous-saharien"
Five weeks, a classic MOOC mainly for African audiences, or those interested in health and climate change in Africa. Currently under production, will be on line in March 2015 at the Francophone platform FUN (France Université Numérique)
Language: French
Subtitles: English

4. MOOC "Health - the Human Face of Climate change"
The MOOC is to be released mid-October 2018 on edX and hosts among others Gina McCarthy, Fransesca Dominici, Austin Blackmon, Heather Henriksen, Chris Golden, Sam Myers, Paul Farmer, Erin Mordecai, John Mandyck and many more - so stay tuned.
Language: English